MY WAY, MEANINGFUL HOTELS
My Way is a collection of meaningful hotels that seeks to generate relevant impacts beyond the traditional holiday experience.
Focused on people: Every person is different. For this reason, we don't believe in equal spaces. My way means your way.
Responsability: We want to contribute to the wellness of the planet and people's well-being through every little detail.
It only happens once
Create memorable experiences in unique hotels.
Happy moments our guests will remember forever.
Surprise helps make memorable moments.
Everything we do, we do to leave the world in a better position than when we first arrived.
Awareness | Hospitality | Commitment | Leisure
Optimism | Approachable | Distinction
Personalisation | Sensitivity
# Emotion -filled travel. As opposed to product tourism. Experiences and emotions above all else.
# Technology as a tool. Placing new opportunities at the service of entertainment and relaxation.
# Sustainability. On three levels: economic, environmental and social.
# Open to diversity.  New guest types continue to emerge: couples with no children, single-parent families, senior travellers, etc..
Las Terrazas de Abama Suites
The Hotel Las Terrazas de Abama Suites is a luxurious sanctuary of peace and tranquility surrounded by typical Canary Island vegetation, thousands of palm trees and the green mantle of the 18-hole golf course. More than 160 hectares of land are embraced by the beauty of the Tenerife scenery and the immensity of the views of the Atlantic Ocean and La Gomera, which leaves no one indifferent. A postcard that you can see from each of the 151 suites that make up the complex. From the smallest suite of 87 m² (almost three times the size of a standard room) to the duplex with a private hot tub of more than 200 m², all are surprising for the calm of the environment and its ample space. Plenty of space.
Los Jardines de Abama
Suites
The Hotel Los Jardines de Abama Suites is a small collection of independent villas with private infinity pool and modern suites overlooking the Atlantic Ocean that catch all eyes. It is part of the Abama Resort Tenerife complex, whose 18-hole golf course surrounds the entire area accompanied by 25,000 palm trees and stunning native plants. It combines the amenities of an exclusive resort with the intimacy of the villas and the atmosphere of a five-star hotel. A place of retreat to enjoy tranquility and privacy in Tenerife, the island of eternal spring.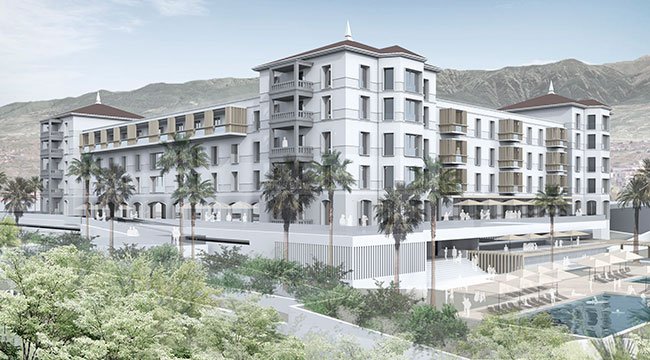 Gran Hotel Taoro
The first luxury hotel opened in Spain in 1890 will reopen its doors in 2024, after a comprehensive renovation that, inheriting its history and its relevance in the tourist history of Tenerife, aspires to connect the hotel with the future and serve as a reference and energizer of the tourist transformation of Puerto de la Cruz, pioneer destination of tourism in the Canary Islands.
Opening scheduled in 2024.