MY WAY, MEANINGFUL HOTELS
My Way is a collection of meaningful hotels that seeks to generate relevant impacts beyond the traditional holiday experience.
Focused on people: Every person is different. For this reason, we don't believe in equal spaces. My way means your way.
Responsability: We want to contribute to the wellness of the planet and people's well-being through every little detail.
It only happens once
Create memorable experiences in unique hotels.
Happy moments our guests will remember forever.
Surprise helps make memorable moments.
Everything we do, we do to leave the world in a better position than when we first arrived.
Awareness | Hospitality | Commitment | Leisure
Optimism | Approachable | Distinction
Personalisation | Sensitivity
# Emotion -filled travel. As opposed to product tourism. Experiences and emotions above all else.
# Technology as a tool. Placing new opportunities at the service of entertainment and relaxation.
# Sustainability. On three levels: economic, environmental and social.
# Open to diversity.  New guest types continue to emerge: couples with no children, single-parent families, senior travellers, etc..
Las Terrazas de Abama Suites
Experience, enjoy, savour and remember. Our luxurious, exclusive suites are located in a privileged corner on Tenerife's south-western coast in the Guía de Isora area. Accompanied by an average annual temperature of 23ºC, they offer impressive views of La Gomera Island and the Atlantic Ocean.
Los Jardines de Abama
Suites
Get away from the bustle of everyday life and immerse yourself in an oasis where time seems to stop.
Abama Resort is designed to fulfill all the wishes of its guests with impeccable service and discreet elegance.
New opening from October 2021.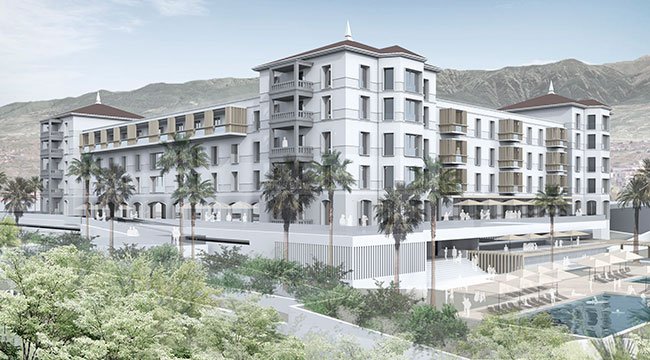 Gran Hotel Taoro
The first luxury hotel opened in Spain in 1890 will reopen its doors in 2024, after a comprehensive renovation that, inheriting its history and its relevance in the tourist history of Tenerife, aspires to connect the hotel with the future and serve as a reference and energizer of the tourist transformation of Puerto de la Cruz, pioneer destination of tourism in the Canary Islands.
Opening scheduled in 2024.